This classic Tater Tot Hotdish is perfect when you're craving comfort food. Whether it's the main dish or a side, everyone at the table will be happy. This midwestern staple goes far and fills everyone up. Each creamy bite will be enjoyed!
Are you ready for the Super Bowl? What are your plans? As always, we are making WAY too much food for just a few people. I have smokies and brownies to finish, but in the meantime let's talk about ugly food. There could not be an uglier food than Tater Tot Hotdish. Or, Tater Tot Casserole, if that's more up your alley. Here in Minnesota we go with Hotdish. Or more accurately, hahhhht-dish.
This video below will walk you through making your own Tater Tot Hotdish quickly!
This is embarrassing to admit, but this was my first time making this delicious dinner. It is ugly, yes, but also comforting and delicious. It WILL be made again and again in my kitchen.
What is hotdish?
Maybe you're not from Minnesota (lovingly referred to as Minnesnowta!) and the word hotdish is confusing. But casserole is more familiar. Either way, it's a one-pot meal packed with your protein, a potato or some sort of starch , your veggies and some sort of gravy or sauce.
Why is hotdish so popular?
Hotdish is a great option because it's very affordable. You can use frozen, canned or fresh veggies. You layer the meat, potatoes and veggies so you don't spend a lot on any layer. You also pack a lot of food into one pot. Also, it's great for having left overs or enough to feed a great big group!
Can I switch out beef for another meat or make this a vegetarian meal?
Yes! Ground turkey or sausage would be excellent choices but if you prefer to make this meatless, it's still tasty.
To make this dish vegetarian, just omit the meat and the third layer or add additional layers of veggies and potatoes. It's still a great option!
Prep for this Tater Tot Hotdish is minimal. There is no need to pre-cook veggies or tater tots. Easy peasy! Enjoy this ugly yet delicious dinner AND your Super Bowl feast, whatever that may be! You can access other great casseroles and hotdishes here!
TRY THESE OTHER COMFORT FOOD RECIPES
Comfort Food, Dinner, Tater Tots, Beef, Casserole Recipe
Main Dish, Comfort Foods
American
Tater Tot Hotdish
Comfort food at its best! This baby is a no-fail dinner option that will make everyone at the dinner table happy!
https://i1294.photobucket.com/albums/b612/meganporta/TaterTotHotdishTHUMBNAIL_zpstahgk4bu.jpg
2018-11-30
Yield: 12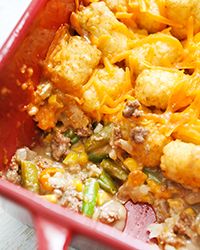 Tater Tot Casserole
This classic Tater Tot Hotdish is perfect when you're craving comfort food. Whether it's the main dish or a side, everyone at the table will be happy. Each creamy bite will be enjoyed!
prep time: 15 mins
cook time: 45 mins
total time: 60 mins
ingredients:
3 tablespoons extra-virgin olive oil
1 yellow onion, chopped
1 pound ground beef
Salt and pepper, to taste
1 cup frozen green beans
1 cup frozen corn
Two 10.75-oz. cans cream of mushroom soup
2 tablespoons ketchup
1 tablespoon Worcestershire sauce
32-oz. bag frozen tater tots
1 1/2 cups sharp shredded cheddar cheese
instructions
Preheat oven to 350 degrees F. Coat a 9x13 baking dish with cooking spray and set aside. Heat olive oil in a large skillet over medium heat. Add onion and cook, stirring, until tender and fragrant, about 3 minutes. Add ground beef and cook until no longer pink. Drain grease from pan and add salt and pepper to onions and beef.
Add green beans, corn, soup, ketchup and Worcestershire sauce to the skillet. Cook over medium heat for 5 minutes and pour in an even layer into prepared baking dish.
Top with the tater tots (in a single layer), followed by the cheese. Bake in the preheated oven for 40-45 minutes or until tater tots are lightly browned and cheese is melted.