These cookies are adapted from a popular cookie recipe made in the early 1900s that was commonly referred to as Overnight Caramel Cookies. The addition of the salted caramel topping sends this recipe over the moon!
Thanks to my super-awesome aunt who happens to be one of the kindest people I know, I have my food-loving little hands wrapped around an aged family relic. My Aunt Julie has loaned me a cookbook that my great grandmother put together back in the 1930s and '40s. These yellowed pages are like GOLD to me. I've gently flipped through the book probably a hundred times in the past few months. I love seeing what the trends were nearly 100 years ago and it is also fun to see how much has changed. Including handwriting!
As you know, I'm on the REMIX theme right now, so I am mixing up recipes every chance I get. The Overnight Caramel Cookies recipe from the aged cookbook keeps screaming at me and I knew I had to recreate it. Modernize it. Adapt it. Whatever you want to call it. The "overnight" part of the recipe is completely unnecessary, in my opinion (and kind of scary), so I eliminated that, ditched the nuts, added a delicious caramel topping and....sea salt! Modern caramel cookies should involve sea salt, am I right?
I adore these cookies. This is a no-fail recipe that you will make over and over. After all, they were a standby in the '30s.
Cookie, Salted caramel, Treats
Dessert
American
Yield: 44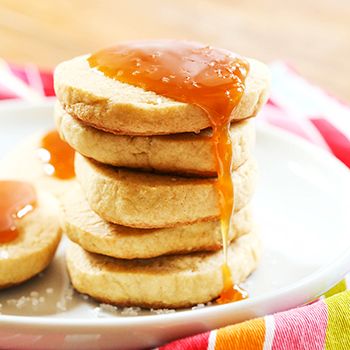 SALTED CARAMEL REFRIGERATOR COOKIES RECIPE
prep time: 1 hour
cook time: 45 mins
total time: 1 hours and 45 mins
Recipe adapted from a popular cookie from the early 1900s.
ingredients:
1 cup (2 sticks) salted butter, softened
2 cups brown sugar
3 large eggs
4 cups all-purpose flour
1 teaspoon baking soda
1/2 teaspoon salt
14-oz. jar caramel ice-cream topping
Coarse sea salt, for sprinkling
instructions:
Using a stand mixer fitted with the paddle attachment (or a large mixing bowl with a hand mixer), combine the butter, brown sugar and eggs and beat on medium speed until creamy and free of lumps.
In a separate bowl, combine the flour, baking soda and salt. Mix well. Gradually add to the butter mixture and beat on medium speed until just combined. Place 2 large pieces of plastic wrap on a flat surface. Divide batter in half and place on prepared plastic wrap. Form each half of dough into a log approximately 3 inches in diameter. Wrap tightly with the plastic wrap and refrigerate for a minimum of 1 hour.
Preheat oven to 350 degrees F. Remove the dough from the fridge and remove plastic wrap. Slice into 1/2-inch pieces and place on prepared baking sheets. Bake in the preheated oven for 8-10 minutes, or until golden brown around bottom edges. Let cool.
Top each cooled cookie with 1 tablespoon of the caramel topping and spread evenly. Sprinkle with sea salt.
NOTES:
1 hour in the fridge.