It's a dream come true! A Loaded Baked Potato in your fingertips! We occasionally make these as a main dish because they are fun bites of cheesy bacon-topped yumminess. They are also great as a snack or an appetizer for any gathering!
One of the first things I do every morning is peek at the 5-day forecast on my phone. I got very excited when I saw 48 degrees as the projected high for Saturday. Beach weather! People will be strolling all around the Twin Cities wearing t-shirts and shorts. In the meantime, we are all still cooped up inside, watching the snow fall and wishing the ice on our driveways would magically melt as we continue with our "winter eating." Although typically more of an appetizer, I made these loaded baked potato rounds for dinner the other night. I presented them to the boys as potato chips. "Why are you letting us eat potato chips for dinner, Mom?" Because I'm a super-cool mom. And because they are super yummy!
HOW TO MAKE LOADED BAKED POTATO ROUNDS
This is an easy weeknight meal to put out for your family!
STEP 1
Start out with a handful of baby red potatoes. They are the perfect size for these rounds.
STEP 2
Slice the potatoes so they are no more than 1/4 inch thick. Place them on a rimmed, parchment-lined baking sheet and brush them with olive oil. Sprinkle some kosher salt over the tops.
STEP 3
Bake them until they are perfectly browned. Yum! Add delicious toppings and throw back in the oven to melt and crisp up.
NOTES ABOUT LOADED BAKED POTATO ROUNDS
Swap out baby red potatoes for sliced sweet potatoes or Yukon golds.

These are great cold the next day, so refrigerate leftovers!

Swap out toppings with other toppings of your choice (broccoli, cauliflower, sausage).
OTHER TOPPINGS FOR YOUR LOADED BAKED POTATO ROUNDS
Gorgonzola

Buffalo sauce

Sour Cream

Salsa

Caramelized onions

Leeks, green onions or chives

Chickpeas and curry powder

Leftover BBQ chicken or pork
LOADED BAKED POTATO ROUNDS
Potatoes, Finger Foods, Appetizers, Party Food, Loaded Potato Rounds
Appetizer
American
Yield: 8-12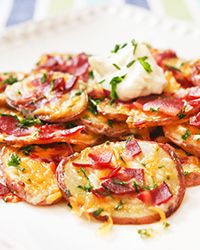 Loaded Baked Potato Rounds Recipe
It's a dream come true! A Loaded Baked Potato in your fingertips! We occasionally make these as a main dish because they are fun bite size cheesy bacony goodness. But they are great as a snack or to bring as an appetizer to a gathering as well!
prep time: 20 mins
cook time: 30 mins
total time: 50 mins
ingredients:
5-6 baby red potatoes, sliced into 1/4-inch thick rounds
Olive oil, for brushing
Kosher salt, for sprinkling
2 cups shredded cheddar cheese
8 strips bacon, cooked and chopped
3 tablespoons chopped chives
instructions
Preheat oven to 400 degrees F. Line two rimmed baking sheets with parchment paper.
Brush both sides of each potato round with olive oil and place in a single layer on the prepared baking sheets. Sprinkle with kosher salt. Bake in the preheated oven for 30 minutes, flipping the rounds halfway.
Remove from oven and top with cheese, bacon and chives. Bake for another 10 minutes, or until cheese is melted. Serve warm, finger-food style.