Put a delicious spin on your next Fruit Salad by adding a super-secret and unexpected ingredient. Simply mix together your favorite fresh summer fruits to enjoy a naturally sweet salad. This salad is a hit at parties!
Despite the hood being ripped off my car for no apparent reason on the interstate, I am determined to make our upcoming road trip happen. Seriously, who does this happen to? Have you ever heard of a hood just flying off of a car? At any rate, the little boys and I plan to head toward the east coast starting on Friday. We will stay with some awesome friends for a few nights in Louisville, and then head to Charlotte to spend a week with my dad and stepmom. Unfortunately we'll have to leave Dan behind. Darn work. Please pray that my car stays intact.
WATCH THIS VIDEO TUTORIAL TO LEARN HOW TO CUT A PINEAPPLE LIKE A PRO
If you are using pineapple in this fruit salad (and I highly recommend that you do!) and wish to avoid paying a million dollars to buy pre-cut fruit, learn How to Cut Pineapple yourself!
Enjoy the step-by-step video tutorial we have created for this recipe! Our goal is to make your time in the kitchen as easy as possible and to ensure that your version of this recipe is a success. See our full collection of cooking and baking videos on YouTube!
PUTTING TOGETHER A FRUIT SALAD WITH A TWIST
This is such a perfect salad for summer!
STEP 1
Throw a ton of fruit into a giant bowl. So technical, right? I used strawberries, blueberries, raspberries, pineapple, grapes, cantaloupe and watermelon.
STEP 2
Add juice from 1 lemon.
STEP 3
And then throw in a little something that'll make people say, "Mmm, what IS that?!" Dry pudding mix! I used vanilla flavor, but feel free to experiment!
STEP 4
Mix it all together and chill until you are ready to serve. Enjoy!
Fruit, Vanilla Pudding, Berries, Watermelon, Pineapple, Grapes, Cantaloupe
Salads, Sides
American
How To Cut A Pineapple
How to easily cut up a pineapple
https://i1294.photobucket.com/albums/b612/meganporta/FruitSaladTwistTHUMBNAIL_zpsaocxm7ft.jpg
2018-11-30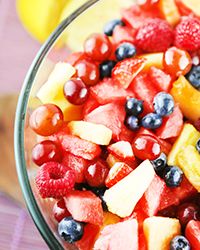 Fruit Salad With A Twist
Turn up tasty by adding dry pudding mix to your fruit salad!
prep time: 10 M
cook time: 20 M
total time: 30 M
ingredients:
Half of a watermelon, seeded and chopped
Half of a cantaloupe, chopped
1 pineapple, chopped
16-oz. container strawberries, hulled and chopped
2 cups grapes
1 pint blueberries
Two 6-oz. containers raspberries
Juice from 1 lemon
1/4 cup dry vanilla pudding mix
instructions:
How to cook Fruit Salad With A Twist
Combine all fruit in a large bowl. Squirt the lemon juice over the top and carefully mix in the pudding mix. Chill until ready to serve!