Spruce up your Rice Krispies treats with this easy, no-bake dessert. A simple recipe that comes together quickly and into your families hands making it an easy way to make smiles. Using corn syrup instead of marshmallows for this batch. Adding chocolate and peanut butter to the classic treat sends this dessert to the moon!
You know those recipes that you fall back on time and time again? For me, it's my Edamame Salad, Baked Ziti and Ham and Cheese Sandwiches, to name a few. Well, here's another. You just cannot beat a no-bake dessert that involves 5 ingredients and is done in 20 minutes. These Chocolate-Covered Peanut Butter Rice Krispies Treats are the perfect dessert to bring to gatherings. And the season for gatherings is now upon us!
It doesn't take much to spruce up the already-delicious Rice Krispies Bars, and you likely have all of the ingredients sitting in your pantry. You may also know this cereal bar by the common name Scotcheroos.
I love having a couple of eager taste-testers on hand at all times. They sure were happy to test this round of goodies!
Once you have tasted these, you might be stuck on this recipe for awhile! But I want to share a few more awesome bars recipes you might want to try. Who doesn't love PB&J? We made some Peanut Butter and Jelly Bars that we know the kiddos would love, even adults who are kiddos at heart! These 5-Ingredient Funfetti Bars are so festive and colorful, this might be your next recipe.
Other No-Bake Treats To Try
Healthy No-Bake Chewy Granola Bars
No-Bake Fresh Strawberry Pie Recipe
I have a few of these left and one will be swimming in my belly shortly! After a healthy veggie-packed salad, of course. :) Oh my goodness, the weekend is almost here! Have a great one, friends.
Do Rice Krispie Treats have marshmallows?
Good question! This treat is a variation of the original Rice Krispie treats of marshmallows and butter. You won't be disappointed by the ease of making these or how delicious they are too! The Rice Krispies are just as chewy and delicious plus the chocolate peanut butter on top takes it over the top!
Can I prepare these in the microwave?
Another good question! This would be possible to do in the microwave. You must have a large enough microwavable container to put in the ingredients. Then it's a matter of heating the liquids so you can dissolve your sugar well and melt the peanut butter too.
What are some toppings variations to this Rice Krispies treat recipe?
It's simple to melt chocolate chips for the topping here. But some people love to blend butterscotch and chocolate chips for a sweet blend. You might fall in love with this option known as Scotcheroos!
It's also fun to toss mini chocolate m&m's on top of the melted chips if you want to add some color and design.
Chopping up toffee bits and sprinkling them over the warm peanut butter rice krispies after you put them in the pan is a delicious idea too!
CHOCOLATE PEANUT BUTTER RICE KRISPIES TREATS
Treats, Chocolate, Rice Krispies, Bars, Snacks
Dessert
American
Yield: 12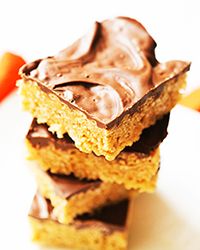 Chocolate Peanut Butter Rice Krispies Treats
Spruce up your Rice Krispies treats with this easy, no-bake dessert. Adding chocolate and peanut butter to the classic treat sends this dessert to the moon!
prep time: 10 mins
cook time: 10 mins
total time: 20 mins
ingredients:
6 cups Rice Krispies cereal
1 cup sugar
1 cup light corn syrup
1 cup creamy peanut butter
12-oz. bag milk chocolate chips
instructions
Coat a 9x13 pan with cooking spray and set aside. Pour the Rice Krispies into a large mixing bowl and set aside. In a medium saucepan, combine sugar and corn syrup. Stirring constantly, bring to a boil over medium-high heat. Remove pan from heat and add peanut butter. Stir until mixture is smooth and creamy.
Pour mixture into the bowl with the Rice Krispies and stir until cereal is well-coated. Pour into the prepared pan and press down evenly using a rubber spatula.
Pour the chocolate chips into a small bowl and microwave in 30-second intervals, stirring after each, until smooth and creamy. Pour over Rice Krispies and spread evenly using a spatula. Cover and refrigerate for a minimum of 1 hour. Cut into squares and serve!
NOTES:
Cover & Refrigerate 1 hour minimum