This Grape Pecan Summer Salad is ridiculously simple, yet so satisfying. Great for lunch, a dinner side or party food!
Do you want to win a $100 Amazon gift card? YOU DO?! Then read on, friends. But first, it's time for some reminiscing. Five years ago I had just gone back to work after a 10-week maternity leave after having my second precious boy. I was SAD. Like, so totally devastatingly depressed about not being at home with my newborn and three-year-old. I remember saying to my (still) bestest friend, "Why can't I be one of those lucky people who writes a blog for a living?!" And she said, "You can be. Do it!" Literally the next day, I started this blog. A year and a half after that day, I lost my full-time job as a graphic designer which was such a huge blessing (in disguise at the time). From that moment on I have been blessed enough to divide my time between being a stay-at-home mom, photographer and food blogger. I can honestly say that I could not ask for a better three jobs and if my awesome friend Heather hadn't told me I could do it, I'm not sure it all would have happened.
To commemorate the FIVE-YEAR anniversary of this blog that I so dearly love, I will give a $100 Amazon gift card to ONE commenter. Leave a comment ON THIS POST telling me one (or all!) of the following: What dreams/goals have you accomplished in the past five years? What dreams/goals do you hope to accomplish in the next five years? Who is the most inspiring person in your life and why? What is your favorite board game?
I will let the comments accumulate for a few weeks and select a winner by the end of September. Please leave a valid email address! THANK YOU for being so wonderful and supportive and awesome for the past five years. Without YOU, this job would not be nearly as awesome.
Bonus! You get a recipe, too! :) My mom was visiting from California last week and it is because of her that I have labeled myself the queen of salads and sandwiches. The day before she arrived, I asked her for an idea for a salad to make while she was here. Here is the simple yet YUMMY creation she came up with! Thank you, MOM! And for next time, here are a few of my other favorite simple salads: my FAVE Chopped Salad, this delicious Green Salad (another mom-inspired one!) and the easiest, most delicious Loaded Veggie Salad you'll ever meet!
This really is sooo good despite its total simplicity.
Thanks again for being here!
Leafy, Grape, Pecan
Salad
American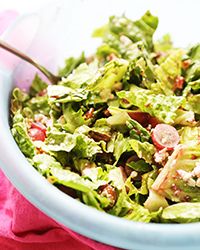 GRAPE PECAN SUMMER SALAD
Such a simple salad, yet so delicious!
prep time: 5 M
cook time: 5 M
total time: 10 M
ingredients:
SALAD
6 cups Romaine lettuce, rinsed and chopped
2 cups halved red grapes
4-oz. container crumbled goat cheese
1 cup chopped pecans
DRESSING
1/4 cup raspberry jam
1/4 cup red wine vinegar
2/3 cup extra-virgin olive oil
Salt and pepper, to taste
instructions:
How to cook GRAPE PECAN SUMMER SALAD
In a large bowl, combine the lettuce, grapes, cheese and pecans. Toss.
In a small bowl, whisk together the raspberry jam, red wine vinegar, olive oil, salt and pepper. Cover and refrigerate both bowls until ready to serve. Just before serving, pour the dressing into the salad bowl and toss until coated.