These irresistible cookies are the exact replica of salted caramel apples. They are FALL wrapped up in a few bites!
First order of business: announcing the winner of a $100 Amazon gift card from my last post. I loved reading through the comments. The goals you have for yourselves are inspiring and some of you have overcome some incredible things. Thanks so much for sharing bits of yourselves with me! Barbie B, I chose your comment because I loved everything about what you wrote, from being a kindergarten teacher for 30 years to starting to run at age 50! You are awesome! Contact me for your prize!
Now onto the elephant in the room, er...the giant, mouth-watering cookie on your screen. Oh my goodness, these were dangerously yummy. I'd describe them as cakey, pillowy, large and totally irresistible.
Sometimes I shy away from baking because it can be time-consuming. These cookies are super easy, even with the frosting.
Be SURE that the apple juice is at room temperature (or slightly warmer) so it doesn't harden the butter.
And as you can see, it helps to have a super-cute little helper. Makes a world of difference. :)
Caramel, Apple, Cookies
Dessert
American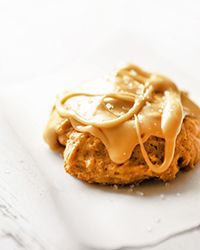 SALTED CARAMEL APPLE COOKIES
Adapted from
this recipe
from Better Homes and Gardens.
prep time: 14 M
cook time: 36 M
total time: 50 M
ingredients:
COOKIES
1/2 cup butter, softened
1 cup brown sugar
1 egg, at room temperature
1 teaspoon vanilla
1/2 cup apple juice, at room temperature
2 1/2 cups flour
1 teaspoon baking soda
1 teaspoon salt
1 teaspoon apple pie spice (substitution: 1 tsp cinnamon)
1 1/2 cups shredded apples (~2 medium)
FROSTING
1/2 cup brown sugar
4 tablespoons butter
3 tablespoons apple juice
2 cups powdered sugar
1 tablespoon sea salt
instructions:
How to cook SALTED CARAMEL APPLE COOKIES
Preheat oven to 350 degrees F. Line a baking sheet with parchment paper and set aside. In a large bowl, combine the butter, brown sugar, egg, vanilla and apple juice (make sure the apple juice is room temp or warmer or it will cause the butter not to mix well). Mix until creamy.
Add the shredded apples and stir until combined. In a medium bowl, combine the flour, baking soda, salt and apple pie spice (or cinnamon). Mix well and gradually add to the batter, stirring until combined.
Drop large spoonfuls of batter onto the prepared baking sheet and bake in the preheated oven for 12-14 minutes. Let cookies cool, then prepare the frosting.
Combine the brown sugar, butter and apple juice in a medium saucepan. Cook over Medium heat until the sugar has dissolved. Remove from heat and stir in the powdered sugar. Stir until creamy and immediately spoon the frosting over the cookies, topping with a sprinkling of sea salt.
Sodium (milligrams)
549.49