This Banana Bread recipe is tried, tested, delicious and EASY! Great way to use up those ripe bananas staring at you from your counter!
So much for fall weather. It is hotter now than it has been all summer! What better time than now for our air conditioner to break, right?! Thanks to our neighbor who had a great repairman recommendation, it is already fixed and didn't kill us financially. Phew!
Despite the high temps outside, I fired up my oven to make this banana bread. I won't protest the heat, but I am ready for fall food. This is a super moist, yummy and easy bread and it is a fall/winter staple in our house.
If you have ripe bananas in your fruit bowl but want to make muffins instead, check out these Banana Crumb Muffins.
The crumble that goes on the top sends this bread to the moon, in my opinion.
Still have bananas taunting you? You absolutely HAVE to try these Banana Bars. Oh oh! And these Banana Chocolate Chip Cookies!
Enjoy the rest of your week! Thanks for reading!
Banana, Loaves, Snack
Bread
American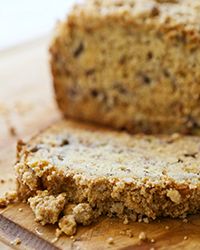 BANANA BREAD
This banana bread is super moist and packed with flavor!
prep time: 15 M
cook time: 1 hour
total time: 1 H & 15 M
ingredients:
1 stick butter, softened
1/2 cup brown sugar
1/2 cup sugar
2 large eggs
1 teaspoon vanilla
2 cups flour
1 teaspoon baking soda
1 teaspoon baking powder
1 teaspoon salt
3 ripe bananas, mashed
TOPPING
2 tablespoons butter, melted
1/2 cup flour
1/2 cup brown sugar
instructions:
How to cook BANANA BREAD
Preheat oven to 350 degrees F and coat a 9x5 pan with cooking spray; set aside. Combine the butter, brown sugar, sugar, eggs and vanilla in a large bowl. Mix well.
In a medium bowl, combine flour, baking soda, baking powder and salt and mix well. Gradually add to the butter-sugar bowl until combined. Add mashed bananas. Pour into prepared pan.
In a small bowl, combine the 2 tablespoons of butter, 1/2 cup of flour and 1/2 cup of brown sugar. Mix until crumbly. Spread over the top and bake in the preheated oven for approximately 1 hour.
Start checking for doneness at the 50-minute mark. When a toothpick inserted into the center comes out clean, the bread is done.
Sodium (milligrams)
406.93