Apples and carrots create the most delicious little muffin you could ever imagine. These babies are moist and yummy and will not last long in your kitchen. Great as a snack, breakfast or dessert!
I thought that by now I would be feeling less sad about my baby boy being in kindergarten, but I'm not. He has been my sweet little sidekick for the past five years, providing me with endless snuggles and holding my hand everywhere we went. He is so ready for school and it makes me so happy that he is enjoying it and I know it will get easier. In the meantime, I've been, among other things, baking! My oven is tired and wishing Sammy would quit school and come back home already.
These delicious little muffins came from Better Homes & Gardens Fall Baking magazine, but for the life of me I cannot find the recipe on their website to link back to. Thank you, BH&G!
They were so delicious and a bonus for me was that this is literally the ONLY way I can get my five-year-old to knowingly eat carrots. I could see total confusion wash over his face as he realized he had just eaten a bite of something with carrots in it...and enjoyed it. Ha! I do have a few other sneaky recipes for kids, like these Healthy Breakfast Muffins and these Healthy Breakfast Cookies. Or No-Bake Granola Bars! And you have to make these Healthy Snack Bites, too!
Wishing you all a wonderful week!
Muffin, Carrots, Apples
Bread
American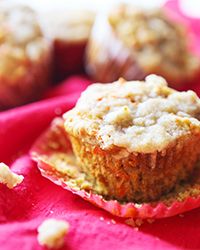 APPLE CARROT CAKE MUFFINS
The best combination of apples and carrots packed into a delicious little muffin.
prep time: 25 M
cook time: 25 M
total time: 50 M
ingredients:
MUFFINS
1/2 cup (1 stick) butter, softened
1 cup sugar
3 eggs
1/2 cup milk, at room temperature
1 teaspoon vanilla
2 cups flour
2 teaspoons baking soda
1 teaspoon apple pie spice (substitution: 1 tsp. cinnamon)
1 teaspoon salt
1 cup shredded apples (from ~1 large or 2 small)
1 1/2 cups shredded carrots (from ~4 large)
TOPPING
2 tablespoons butter, melted
1/2 cup flour
1/2 cup brown sugar
instructions:
How to cook APPLE CARROT CAKE MUFFINS
Preheat oven to 350 degrees F and line a muffin tin with cupcake wrappers; set aside. Combine the butter, sugar, eggs, milk and vanilla in a large bowl. Mix well.
In a medium bowl, combine flour, baking soda, apple pie spice and salt and mix well. Gradually add to the butter-sugar bowl until combined. Fold in the shredded apples and carrots. Pour into prepared muffin tins, filling each 3/4 of the way full.
In a small bowl, combine the 2 tablespoons of butter, 1/2 cup of flour and 1/2 cup of brown sugar. Mix with a fork until crumbly. Sprinkle over the tops of the muffins and bake in the preheated oven for 20-25 minutes, or until a toothpick inserted into the center comes out clean. Serve warm with butter!
Sodium (milligrams)
332.21