This is my favorite way to prepare and enjoy fresh green beans! This recipe is ridiculously easy and you can't imagine how delicious it is! Great as a side dish any time of the year.
The Minneapolis Farmer's Market has always been a novelty for me. Maybe because it is always CRAZY busy and nearly impossible to keep track of two boys, while routing through scads of people and scoping out produce. On Friday of last week I decided to give the Farmer's Market a weekday try. It was a different world! The aisles of delicious veggie-ness opened up and we cruised through, me salivating over the plump, ripe tomatoes and my boys yearning for any sign of sugar (of course).
I learned that if I swipe my hand over a section of green beans at the Market, the translation is that I want every single container that my hand hovered over. "I'll take any one of these" became "I'll take all of these." Oh well. He was already pouring them into a giant plastic bag and it only cost $5. And I happen to love green beans.
My in-laws had the boys and I over on Saturday night (Dan was out of town). I threw a third of my crop into the oven and roasted them. We brought them to dinner and they were devoured!
Here's what you'll need: A pound of green beans, olive oil, Parmesan cheese, salt, pepper and a hot oven. That's it!
Roast them in the oven at 425 degrees for 30 minutes, turning/flipping once.
I have been BUSY this week trying to find creative ways to prepare/preserve the rest of the veggies I acquired at the Farmer's Market. I love veggies...and summer!
Check out some of my other favorite veggie sides!
Green Beans, Parmesan Cheese, Olive Oil
Side
American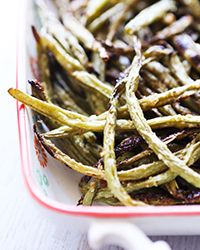 OVEN ROASTED PARMESAN GREEN BEANS
My favorite way to enjoy (devour) green beans!
prep time: 10 M
cook time: 30 M
total time: 40 M
ingredients:
1 pound fresh green beans, rinsed and ends snapped off
3 tablespoons olive oil
1/4 cup Parmesan cheese
Salt and pepper, to taste
instructions:
How to cook OVEN ROASTED PARMESAN GREEN BEANS
Preheat oven to 425 degrees F. Line a rimmed baking sheet with aluminum foil and coat with cooking spray.
In a large bowl, combine the green beans, olive oil, Parmesan cheese, salt and pepper. Mix well and pour into a single layer onto the prepared baking sheet.
Bake in the preheated oven for 30 minutes, stirring/flipping the green beans halfway through. Serve warm.
Sodium (milligrams)
193.63