Making your own jam is delicious and rewarding. It is easy and done in no time. This is a great way to use up fresh cherries that may be sitting in your fridge. Cherry Jam will make people swoon and it is also a great gift!
When I see Bing cherries on sale, I ALWAYS buy them. I love cherries. I can make my way through a bag of cherries in no time. Gently bite..detect pit with teeth..work pit outside of teeth..spit pit out..enjoy delicious cherry flesh..repeat. We recently found ourselves with tons of delicious cherries, so I made jam. It was incredible. I must now quote my 8-year-old upon eating said jam. "This jam is FANTASTIC!" This was followed by, "This stuff makes me DANCE!" Need I say more?!
What is the difference between jam and jelly?
Texture is the short answer. Jelly is fruit broken down in the cooking process and turns into fruit juice whereas jam is more chunky because its made up of fruit pulp or crushed fruit. Both are good, just depends on your preference!
Why is pectin not used in this recipe?
Pectin is a naturally made fiber that helps to thicken the jam and then there's a quicker cooking time. The beauty of this jam is that you cook it slow and let the natural pectin in the cherries do its job. Your grandmothers did not use pectin and made delicious jams.
Are cherries the only fruit that are good for making jam?
No, you can make jam with other high pectin soft fruits. Strawberries are also excellent whereas peaches and plums are hard and low in acid so aren't good for making jam with.
ALL you will need are a few simple ingredients! In a medium saucepan, throw together cherries, sugar and lemon juice!
Have a fantastic weekend that makes you dance!
Cherries, Jam, Jelly
Sauce/ Condiments
American
Yield:
Four 1/2-pint mason jars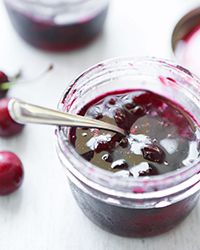 CHERRY JAM
A delicious way to enjoy fresh cherries!
prep time: 12 M
cook time: 18 M
total time: 30 M
ingredients:
4 cups chopped fresh Bing cherries (pitted)
3 cups sugar
Juice from 1/2 of a lemon
instructions:
How to cook CHERRY JAM
Add the cherries, sugar and lemon juice to a medium saucepan. Bring to a boil over medium-high heat. Continue to boil, stirring frequently, for 10 to 12 minutes, or until the jam sticks to the back of a spoon.
Pour into mason jars, seal tightly and let cool completely in the refrigerator. Good for 4-6 weeks in the refrigerator, or in the freezer for 6 months.