Do NOT let the pickle-making process intimidate you! These Quick Pickles are easier to make than you could ever imagine. And you will not even believe how delicious they are in the end!
Have you ever watched the caterpillar to butterfly transformation? Of course I have always known how it works, but until recently had never actually watched the process unfold before my eyes. It is a MIRACLE! There is no other way to describe it! We currently have one chrysalis that is 1.5 weeks old and one that is 2 hours old. We have a caterpillar who is a day or so away from starting his transformation and also a teeny egg that is about to hatch. Today as I waited for Elijah to get done with heart camp at a nature center in St. Paul, I found myself crazily rooting through the milk weed plants. Help! I'm addicted to caterpillars!
While not exactly on the same miraculous level, I am always amazed at how cucumbers so deliciously turn into pickles. The mother of a friend of ours graciously gave me a huge bag of cucumbers from her August harvest (thanks, Luke's mom!) and I was over the moon! I spent that afternoon making a HUGE batch of these delicious little pickles. I could not have been more pleased.
This task may seem daunting, but it is easy peasy. I promise! If a recipe is complicated, I don't do it.
Dissolve sugar in two types of vinegar and a few spices. This takes 5 minutes tops. Pour the liquid into two 1-quart mason jars that are packed with cukes, onions and peppers (peppers optional).
If you plan for these to last a while (mine did NOT!), make sure the jars are piping hot (place them in boiling water for 10 minutes or run them through the dishwasher) before screwing on the lids. The seals will pop after a few minutes.
Also, adding peppers adds a nice touch. It does not make them TOO spicy, I promise. Both ways (pepper or no peppers) are delicious. I could literally sit down with a jar and eat all of its contents by myself within a few minutes.
Enjoy! You're gonna love these babies.
Take a peek at a few other cucumbery recipes: Tomato Cucumber Chickpea Salad, Cherry Gazpacho Salad and Cram-It-All-In Veggie Sandwich!
Veggies, Snack, Cucumber
Side
American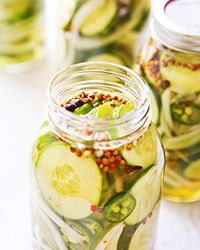 QUICK SWEET REFRIGERATOR PICKLES
NO intimidation with these delicious pickles! They are super-duper easy and beyond delicious!
prep time: 15 M
cook time: 1 hour
total time: 1 H & 15 M
ingredients:
6-8 cups sliced cucumbers (approximately 5 large cucumbers)
1/2 of a yellow onion, sliced
1 jalapeño or serrano pepper, sliced (optional)
1 cup sugar
1 cup cider vinegar
1/2 cup white vinegar
2 tablespoon pickling spice (substitution: 1 1/2 teaspoons celery seeds and 1 1/2 teaspoons mustard seeds)
1 tablespoon kosher salt
instructions:
How to cook QUICK SWEET REFRIGERATOR PICKLES
In a large bowl, combine the cucumber slices, onion slices and peppers (if using). Mix well. Stuff the contents of the bowl equally into two 1-quart mason jars.
In a medium saucepan, combine the sugar, cider vinegar, white vinegar, spices and kosher salt. Bring to a boil and reduce heat to Medium. Stir until the sugar has dissolved, approximately 3 to 5 minutes.
Divide the vinegar mixture between the two sterilized, hot mason jars (place in boiling water or run through the dishwasher). Fill jars with water, if needed, so that the cucumbers are completely covered with liquid. Screw lids onto jars and set in a cool place. The lids will pop as they seal. Refrigerate for a minimum of 1 hour or up to 2 months.