These Crumble Bars are the EASY version of peach pie, except even more delicious!
'Tis the season for swimming, popsicles, tank tops, air conditioning and PEACHES! When we arrived at my dad's house a few weeks ago, there sat a huge box of ripe, delicious peaches on the kitchen counter. I secretly hoped my stepmom didn't have plans for them and my recipe-making wheels started turning. She graciously allowed me to be creative with the juicy fruits!
My favorite peach recipe to date is still my peach and blueberry cheesecake, but these peach crumble bars are a close second. (Also in the running: my totally yummy Peach Blueberry Crisp.) It was not easy to stop eating these bars. Just one more.. ok, one more.. LAST one..
These bars are just as good as (if not better than) peach pie and so much easier to make.
We have a SUPER full August ahead of us. I'm excited and exhausted thinking about it. I hope you all have a fun last month of summer ahead of you, as well!
Thank you so much for reading! Enjoy the peach bars!
Peach, Bar, Peach Crumbs
Dessert
American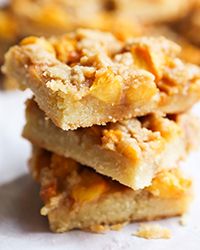 PEACH CRUMBLE BARS
The EASY PEASY version of peach pie...but yummier!
prep time: 15 M
cook time: 45 M
total time: 60 M
ingredients:
CRUST
1 egg
2 sticks butter, softened
1/2 cup sugar
2 cups flour
1/2 teaspoon salt
FILLING
4 peaches, peeled, pitted and chopped
4 tablespoons melted butter
1/2 cup brown sugar
TOPPING
2/3 cup brown sugar
2/3 cup flour
4 tablespoons butter, melted
instructions:
How to cook PEACH CRUMBLE BARS
Preheat oven to 350 degrees F. Line a 9x13 pan with parchment and set aside.
PREPARE THE CRUST
In a large bowl, combine the egg, butter and sugar. Mix until creamy. Add flour and salt and stir until combined. Using your fingers (flour them, if needed), press the dough evenly into the bottom of the prepared pan. Bake in the preheated oven for 15 minutes.
PREPARE THE FILLING
In a large bowl, combine peaches, butter and brown sugar. Stir until combined. Pour evenly over crust.
PREPARE THE TOPPING
In a small bowl, combine the brown sugar, flour and butter. Stir until mixture is crumbly. Spread evenly over filling layer. Bake for an additional 30 minutes. Let cool and cut into squares.
Sodium (milligrams)
134.25