This Hot Corn and Crab Dip is the perfect appetizer for any party! The creaminess of the garlicky cheese and addition of sweet bell peppers, corn, and jalapenos are an awesome combination. Make it as mild or as spicy as you'd like!
We typically do not do sit-down family dinners in the summer. We let the boys eat outside as much as possible and usually that means Dan and I fend for ourselves. I call it our warm-weather-loving summer no-schedule dinner schedule.
I have mentioned before that we LOVE dips, like this Buffalo Chicken Dip and this Spinach Artichoke Dip and this Chicken Jalapeno Dip. This particular spicy, gooey dip had been on my brain for a while and I threw it together the other night as an unconventional (for most), conventional (for us) dinner for Dan and myself. It was so ridiculously good and please no judging when I tell you that the two of us polished it off in ONE HOUR. That. Good.
I used my cast-iron skillet to make this dip, but if you don't own one do not fret!
In whichever type of skillet you have, add corn, green onions, jalapeño peppers (optional), bell pepper, garlic, salt and pepper.
Cook for 3-5 minutes over medium heat.
Meanwhile, in a medium bowl, combine cream cheese, sour cream, mayo, crab meat, Worcestershire sauce and diced chiles (optional).
Add mixture to the skillet and remove from heat. If you are using a cast iron, sprinkle with shredded cheddar and pop it in the oven for 20 minutes. If not, add the mixture to a greased square baking dish first.
This dip would be a huge hit at gatherings or, ahem, as a dinner for two. Enjoy!
Party Food, Spicy, Hot Dip
Appetizer
American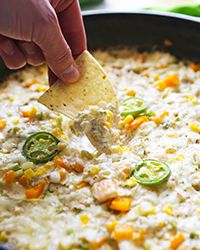 HOT CORN AND CRAB DIP
This is the perfect hot appetizer for any party. Make it as spicy or mild as you would like!
prep time: 10 M
cook time: 25 M
total time: 35 M
ingredients:
3 tablespoons olive oil
1 orange or red bell pepper, chopped
1 bunch green onions, sliced (white and light green parts only)
2 cloves garlic, minced
1 cup frozen corn kernels
1 jalapeño pepper, finely chopped (optional)
Salt and pepper, to taste
4 oz. cream cheese, softened
1/2 cup mayonnaise
1/2 cup sour cream
4-oz. can diced green chiles (optional)
A few splashes worcestershire sauce
6-oz. package lump crab meat
1 cup shredded cheddar cheese
instructions:
How to cook HOT CORN AND CRAB DIP
Preheat oven to 400 degrees F. Heat olive oil in a cast-iron or regular skillet over medium heat. Add bell pepper, onions, garlic, corn, jalapeños (if using), salt and pepper. Cook for 3 to 5 minutes.
In a medium bowl, combine cream cheese, mayo, sour cream, green chiles (if using), worcestershire sauce and crab meat. Mix well and add to the skillet. Stir until combined.
If using a cast-iron skillet, spread dip in an even layer, top with shredded cheese and remove from heat. If not using a cast-iron skillet, coat a square baking dish with cooking spray and add the contents of the skillet topped with shredded cheese. Bake uncovered in the preheated oven for 20 minutes or until bubbly. Serve with tortilla chips.
Sodium (milligrams)
496.76