This Three Cheese Manicotti is a GREAT easy weeknight dinner! Stuffing your favorite italian flavors and three kinds of cheese into a large piece of pasta is delicious! It is a favorite for large gatherings because its creamy and rich but won't be hard to prepare. You can't go wrong with cheesy, delicious pasta!
Happy second to last day of 2015! We have spent the past few days in southern Indiana enjoying time with family, floods and food. We will travel back to Minnesota on New Year's Day, where and when I will begin my healthy transformation. In the meantime, bring on the FOOD!
We made this delicious Cheesy Manicotti a few weeks ago and it was SUPER easy and yummy. Manicotti is one of those "scary" recipes that seems daunting, but it's really not daunting at all. This entire dinner is done in less than an hour.
What is Manicotti pasta?
The word manicotti means "little sleeve" or similar to a muff. The American version of manicotti is different from it's Italian counterpart. There a manicotti is a crepe that filled. In the US, it's a tube shaped pasta that can be stuffed with different ingredients making a delicious filled pasta surrounded by a sauce.
What cheeses are good for preparing excellent manicotti?
A mixture of cheeses blended together make for great pasta. A blend of mozzarella, ricotta, cottage cheese or Parmesan are often used. You will also see cheddar cheese or cream cheese occasionally.
What other ingredients can I add to my manicotti?
The tube is ready to be filled with any of your favorite ingredients! You have a variety of meats from ground sausage or turkey to shredded chicken. Also, you can add spinach, mushrooms, sweet peppers or zucchini. Whether you use a tomato sauce or a white sauce, it's an easy meal to put together.
Feel free to prepare with or without meat.
As 2015 comes to a close, I find myself being extra grateful for SO many things including this blog and every single one of you. Thank you from the bottom of my heart for being here!
THREE-CHEESE MANICOTTI RECIPE
Pasta, Dinner, Lunch, Italian, Easy, Cheese
Main Dish
Italian
Yield: 5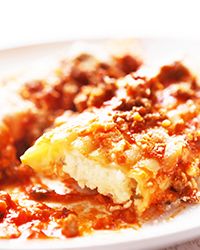 Easy Three-Cheese Manicotti
This manicotti recipe is EASY! Cheesy filled pasta tubes topped with a delicious meat sauce. A family pleaser!
prep time: 20 mins
cook time: 30 mins
total time: 50 mins
ingredients:
8-oz. package manicotti noodles
1 pound ground beef
15-oz. container ricotta cheese
1 1/2 cups shredded mozzarella cheese
1/4 cup Parmesan cheese
1 egg
1 teaspoon Italian seasoning
24-oz. jar spaghetti sauce
instructions
Cook manicotti noodles in boiling water until 3 minutes shy of al dente. Rinse in cold water and set aside. Cook ground beef in a skillet over medium heat until no longer pink. Drain and set aside.
Preheat oven to 350 degrees F. Coat a 9x13 baking dish with cooking spray and set aside.
In a medium bowl, combine ricotta cheese, 1 cup of the mozzarella, Parmesan cheese, egg and Italian seasoning. Mix well. Even pour half of the spaghetti sauce into the bottom of the prepared baking dish. Divide the cheese mixture between 10 cooked manicotti shells. Carefully stuff the cheese into the shells and form two rows in the baking dish.
Pour remaining sauce over the manicotti, followed by the cooked ground beef and remaining 1/2 cup of mozzarella cheese. Bake in the preheated oven for 30 minutes. Serve warm!