If you want a Pumpkin Pie without the hassle, make your pumpkin pie into bars instead! Each buttery bite of the tasty shortbread crust is perfect with the creamy pumpkin. They are just as delicious as pie but without the extra work.
This is one of my favorite weekends of the year. We kick it off with cooking and EATING which leads to family time, picking out a Christmas tree, decorating, cleaning, organizing, more eating and maybe a little baking. After two days of all of the above, I am spent! My butt is parked on the couch for the evening. We have a movie in the dvd player waiting to be played, so I'll make this quick!
PUMPKIN PIE BARS VS PUMPKIN BARS
What is the difference between pie bars and bars?
These pumpkin pie bars are made with the integrity of a creamy custard in them similar to real pumpkin pie. Pumpkin bars however are thicker, more dense and chewy, could be cake like or even thicker depending on the recipe, but perfect for holding in your hand and munching on.
CAN I USE HOMEMADE WHIPPED CREAM FOR THIS RECIPE?
Absolutely yes! If desired, replace Homemade Whipped Cream with the whipped topping called for in the recipe card.
MAKE YOUR OWN WHIPPED CREAM! WATCH THIS EASY TUTORIAL ON HOW TO PREPARE IT FOR YOUR PUMPKIN PIE BARS!
Enjoy the step-by-step video tutorial we have created for this recipe! Our goal is to make your time in the kitchen as easy as possible and to ensure that your version of this recipe is a success. See our full collection of cooking and baking videos on YouTube!
HOW TO MAKE PUMPKIN PIE BARS
Enjoy this short bread bottom, creamy pumpkin pie bars perfect for feeding a crowd!
STEP 1
Preheat oven to 350 degrees. Line a 9x13 baking pan with parchment paper and set it aside. In a medium bowl, combine the butter, sugar and egg. Mix until it's nice and creamy. Add the flour and salt and stir until combined. Using your fingers (flour them, if needed), press the dough evenly into the bottom of the prepared pan. Bake in the preheated oven for 15 minutes.
STEP 2
In a separate large bowl, combine the eggs and sugar. Mix them well. Add the evaporated milk, pumpkin puree, pumpkin pie spice and salt. Mix until all the ingredients are combined. Pour the filling over the crust and bake for an additional 40-45 minutes, or until center is no longer jiggly.
STEP 3
Let the bars cool completely. Cut the pumpkin bars into squares and serve with Whipped Cream (if desired).
HOW TO FREEZE PUMPKIN PIE BARS
Once the bars are completely cooled, you can wrap the bars in saran wrap tightly so there's no air trapped inside. Then use a layer of aluminum foil to wrap the bars again and place it in the freezer up to 3 months. When you take them out to enjoy again, let them defrost fully in the fridge about 24 hours.
I meant to post this before Thanksgiving (along with a handful of other recipes), but it didn't happen. It is just as tasty as pumpkin pie (if not tastier) and far easier.
Did any of you partake in Black Friday today? How was it out there?
I hope your bellies and hearts are full this evening, as well! Happy Thanksgiving to you all!
OTHER GREAT DESSERTS FOR THANKSGIVING
Peek at these great options, too!
Pumpkin, Bars, Dessert, Easy
Dessert
American
How to make Whipped Cream
Make this easy Homemade Whipped Cream in 5 minutes and with only 3 ingredients! It is creamy, light, fluffy and perfect to spread over just about any dessert!
https://i1294.photobucket.com/albums/b612/meganporta/PumpkinPieBarsTHUMBNAIL_zpsubnnzfll.jpg
2018-11-30
Yield: 16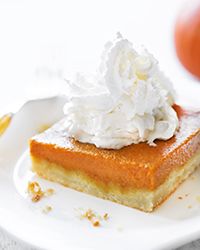 Pumpkin Pie Bars Recipe
If you want a Pumpkin Pie without the hassle, make your pumpkin pie into bars instead! They are just as delicious as pie but without the extra work.
prep time: 20 mins
cook time: 45 mins
total time: 65 mins
ingredients:
CRUST
2 sticks butter, softened
1/2 cup sugar
1 egg
2 cups flour
1 teaspoon salt
FILLING
3 eggs
1 cup sugar
12-oz. can evaporated milk
15-oz. can pumpkin
1 teaspoon pumpkin pie spice (substitution: 1/2 tsp. cinnamon and 1/2 tsp. cloves)
1/2 teaspoon salt
Whipped Cream (for topping)
instructions
Preheat oven to 350 degrees. Line a 9x13 baking dish with parchment paper and set aside. In a medium bowl, combine the butter, sugar and egg. Mix until creamy. Add flour and salt and stir until combined. Using your fingers (flour them, if needed), press the dough evenly into the bottom of the prepared pan. Bake in the preheated oven for 15 minutes.
In a separate bowl, combine the eggs and sugar. Mix well. Add the evaporated milk, pumpkin, pumpkin pie spice and salt. Mix until combined. Pour over the crust and bake for an additional 40-45 minutes, or until center is no longer jiggly.
Let cool, cut into squares and serve with whipped topping (if desired)
NOTES:
Whipped cream for topping , if desired