Never rely on a can of chicken noodle soup again! Made from scratch soup is simple to throw together and great when you're under the weather or want a warm, healthy meal. Moist chicken bites, flavorful broth with tender vegetables, your crock pot does the work for you. This Chicken Noodle Soup is perfectly delicious and comforting!
Original recipe posted: November 2014 | Recipe update: October 2019
Are there support groups that exist for individuals with apple addictions? I acquired two more huge bags of apples (this time not from the secret orchard) and I have been salivating over the possibilities. So far today I have made three apple recipes, I'm super excited about sharing one soon! I have grand plans to attempt three more new recipes tomorrow. We'll see how that pans out.
Have you pulled out your crockpot for fall cooking yet? If not, do it! Go! I'll wait! Wipe out the dust and start slicing up some carrots.
HOW TO MAKE EASY SLOW COOKER CHICKEN NOODLE SOUP RECIPE
Follow these simple steps to enjoy a big bowl of Chicken Noodle Soup, the ultimate comfort food!
STEP 1
Here's what you'll need: Chicken (don't worry about thawing first), onion carrots, celery, garlic, chicken broth, thyme, parsley and bit of salt and pepper. Place all the ingredients into the slow cooker.
STEP 2
Cover and cook, stirring occasionally. Cook time is on high for 4 to 5 hours or on low for 7 to 8 hours. Ten to fifteen minutes before the time is up, remove the chicken breasts, shred the chicken on a cutting board. Add the chicken back into the crock pot, along with package of wide egg noodles. Stir them in and make sure they are submerged in the liquid. Cook until the timer goes off, or until the noodles are cooked through. Serve in a bowl and enjoy with some oyster crackers or saltines!
RECIPE TIPS
Wide egg noodles are a great option. They have a great texture in each bite and they keep their shape better than other noodles while enjoying filling your bowl of soup.

The best part of making a crock pot meal is that the food has a really long time to simmer and cook, really flavoring up the dish. So using chicken breasts is perfect in this soup because they have time to really become tender and easy to shred. The stock will become more flavorable from it. But if you have leftover rotisserie chicken, it's also a good use of meat.

If you prepare your own bone-in chicken or turkey, you can easily make your own Chicken or Turkey stock to freeze for later use in making soups. It's absolutely worth it and easy to freeze for any kind of meals you use stock for.
WHAT TO SERVE WITH YOUR BOWL OF SOUP
Are you slicing yet? Go go GO.
HOW TO FREEZE CHICKEN NOODLE SOUP
Let the soup come to room temperature completely. Then add the soup to a container made for freezing or add them to muffin tins, freeze them into their shape, then remove them from the muffin tin and toss them into a freezer ziploc. You can keep them in the deep freeze for 2-3 months, ready to pull out when you're feeling under the weather or just need a hearty warm meal!
USING CHICKEN BROTH VS CHICKEN STOCK
Both come from chicken! Chicken broth flavor comes from the meat of chicken and tends to be more affordably sold in the supermarket. Whereas Chicken stock comes from bones of chicken (or another animals bones) and the full flavor it offers comes from the gelatin released from the bones after a long time of simmering.
IS CHICKEN NOODLE SOUP HEALTHY?
The soup is made with all homemade ingredients, no preservatives and antioxidants and nutrients are included in each bite from all your veggies. The awesome part about making your own soup is you also reduce the sodium intake that you would get automatically from a can of soup, but can still add a little salt if you wish.
SOUPS THAT WARM THE SOUL
Have a great weekend! Don't forget to turn your clocks back tonight. YES! An extra hour to create appley recipes! (Serious help needed.)
If you make this recipe, be sure to snap a photo and tag it @pipandebby + hashtag it #PIPANDEBBY I'd love to see what you create!
Soup, Chicken, Noodles, Comfort food, Vegetables
Soup
American
Yield: 6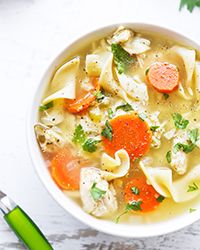 Slow Cooker Chicken Noodle Soup Recipe
Let your slow cooker do the work for you. This Chicken Noodle Soup is perfectly delicious and comforting. Never rely on a can of chicken noodle soup again. Homemade soup is easy to put everything together in your slow cooker!
prep time: 30 mins
cook time: 5 hour and 1 mins
total time: 5 hours and 31 mins
ingredients:
2 boneless chicken breast halves
5 carrots, peeled and sliced
5 stalks celery, sliced
1 onion, chopped
Two 32-oz. containers chicken broth
3 cloves garlic, minced
1/4 cup flat-leaf parsley, finely chopped
1 teaspoon thyme
Salt and pepper, to taste
8 oz. egg noodles
instructions
Place the chicken, carrots, celery, onion, chicken broth, garlic, parsley, thyme, salt and pepper into a crockpot. Cook on high for 4-5 hours or low for 7-8 hours. Remove the chicken and shred it approximately 10-15 minutes before time is up. Add it back into the crockpot along with the egg noodles. Ensure the noodles are immersed in liquid and cook until noodles are done.
NOTES:
4-5 Hours (LOW) or 7-8 Hours (HIGH)