Combine fresh tasty vegetables with chickpeas in a protein packed salad. Each crunchy bite offers a scrumptious filling salad, side dish or filler to a wrap. This colorful salad that brings summer to life in any season!
Fresh-ingredient salads rock. They're pretty and fresh and tasty and versatile. My husband and I make a killer fresh salad that rivals this one, and I'll share it before summer arrives. By the way, where is summer? We got teased with a bit of warm weather last week, so now the cold and snow and freezing rain are even harder to swallow. I'm not convinced that summer will ever welcome us into her warm embrace.
This colorful salad helps me to believe that it might happen, though. It makes me think of lunches outside with my boys as we sit barefoot on the grass, wiping beads of sweat from our foreheads. Mmmmmmmm.
Back to my cold reality known as Minnesota.
If you, too, enjoy tricking yourself into believing it is summer when it is in fact not, make this salad! My family loved it and the entire batch was gone within 24 hours, despite the lack of warm weather.
HOW TO PREPARE SPICY CHICKPEA SALAD
A salad that will make a healthy choice delicious and unforgettable!
STEP 1 -
Drain 2 cans of chickpeas and place them in a medium bowl.
STEP 2 -
Add 1 tomato diced, 1/2 cup diced cucumber, half of a small red onion diced and half of a seeded jalapeno minced. Pour in 2 tablespoons olive oil and 1 tablespoon vegetable oil. Squeeze two tablespoons of fresh lemon juice in and mix in 1 teaspoon ground cumin with a quarter teaspoon cayenne pepper. If you like to mix things up, add in 1 teaspoon dried mango powder!
STEP 3 -
You can chill the salad in the refrigerator for an hour or serve it room temperature. Enjoy!
Kitchen Tips: If you want to go fresh and do as the recipe suggests, soak 1 cup of dried chickpeas in water overnight. Drain the chickpeas and bring to a boil in a large saucepan in 4 inches of water. Reduce heat to medium and simmer for 2 hours, or until chickpeas are tender.
The first thing we did upon making this was throw it onto a piece of flatbread with sliced turkey and black pepper. It's a great way to make an easy meal and stay healthy - it was delicious!
A piece of lettuce would have added a nice crunch, but that had probably been juiced, as well.
No mayo needed! It made a delicious, healthy dinner wrap.
The next day for lunch, I used it as a topping for my boring baked chicken and cottage cheese. And I ate the last of it with crackers for a snack.
I can think of about 100 other things I'd like to put it in and on and in between. Or, I wouldn't mind eating it straight from the container while having a picnic lunch with my family, the beating sun making the tops of our heads hot.
Ahhhhh, a girl can dream.
SPICY CHICKPEA SALAD
Chickpeas, Salad, Jalapenos, Tomatoes
Salad
American
Spicy Chickpea Salad
A colorful salad that brings summer alive in any season!
https://i1294.photobucket.com/albums/b612/meganporta/SpicyChickpeaSaladTHUMBNAIL_zpsuzexbrza.jpg
2011-01-01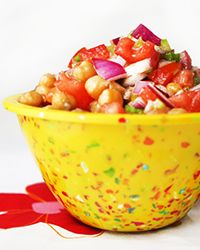 Spicy Chickpea Salad
A colorful salad that brings summer alive in any season!
prep time: 2 hour
cook time: 15 M
total time: 2 H & 15 M
ingredients:
1 cup dried chickpeas (about 5 oz), soaked overnight and drained
1 tomato, cut into ½-inch dice
½ cup diced cucumber (1/2 inch)
½ small red onion, finely diced
½ jalapeno, seeded and minced
2 tablespoons extra-virgin olive oil
1 tablespoon vegetable oil
2 tablespoons fresh lemon juice
1 teaspoon ground cumin
¼ teaspoon cayenne pepper
1 teaspoon dried mango powder, optional
instructions:
How to cook Spicy Chickpea Salad
In a large saucepan, cover the chickpeas with 4 inches of water. Bring to a boil and simmer over moderate heat, stirring occasionally, until tender, about 2 hours; drain.
In a large bowl, combine the tomato, cucumber, red onion, jalapeno, olive oil, vegetable oil, lemon juice, cumin, cayenne pepper and mango powder. Add the chickpeas and season with salt. Serve the chickpea salad at room temperature or slightly chilled.