In less than 5 minutes you can enjoy this delicious turkey wrap for lunch or dinner. It's that simple!
One of my favorite God-given traits is my intense love for vegetables. I have loved eating vegetables since as far back as I can remember. My parents never had the typical toddler power struggle with me at the dinner table. I never complained about eating my brussels sprouts or cauliflower (pickled beets are the exception, yucky).
To this day, I crave vegetables above almost everything else (except for ice cream during pregnancy). Some of my favorite "snacks" include: a plateful of steamed broccoli sprinkled with sour salt and fresh lemon juice, cucumbers and tomatoes soaked in salad vinegar, artichoke hearts dipped in butter and an avocado with a tiny bit of salt.
Veggies are great snacks, but they can also be a part of a great meal. One of the things I have been enjoying lately is making lunches for myself on the weekends. This is typically when I have the most time to be creative with my beloved vegetables. One of my recent lunch staples is a delicious, and extremely simple is the wrap. I find I can be creative like a Hummus Veggie Wrap or this delicious Turkey wrap and it takes me no more than four minutes to put this together. I LOVE wraps!
Top a giant piece of flatbread with:
A zig-zag of mayo (omit this if you want to make it more health-friendly)
A zig-zag of mustard
A couple slices of turkey
Tomato slices
Cucumber slices
Sprinklings of: seasoning salt, salt and pepper
Other ingredients I have been known to add:
Avocado slices
Alfalfa sprouts
Green bell peppers
Banana peppers
Jalapeno peppers
I always use Flatout Flatbread for my wraps. I discovered it a few months ago and everyone in my family loves it, including Mr. Picky Elijah.
Once all of the ingredients are laid out, roll up the flatbread, cut in half and EAT.
turkey, wrap, healthy
Sandwich
American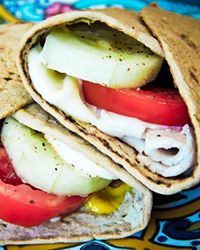 Turkey Veggie Wraps
In less than 5 minutes you can enjoy this delicious turkey wrap for lunch or dinner. It's that simple! Read more at https://www.pipandebby.com/pip-ebby/2010/9/13/turkey-wrap.html#qGXkkqehxx2GI3G8.99
prep time: 4 M
cook time: 1 M
total time: 5 M
ingredients:
1 large flatbread wrap
1 tablespoon Mayo
1 tablespoon yellow mustard
3 Slices deli turkey
2 tomato slices
4 cucumber slices
Sprinkling of seasoning salt
2 avocado slices
Small handful alfalfa sprouts
instructions:
How to cook Turkey Veggie Wraps
Place flatbread on a flat surface and layer ingredients in an even row up the middle. Roll and cut in half. Serve!
Sodium (milligrams)
2267.87